5 tags
Heir to an Icon: Bacardi Global Legacy Cocktail...
Words by: Simon Difford Bacardi Legacy is one of the few real 'Grand Slam' competitions in bartending, and is itself a successor to the Bacardi Grand Prix that ran for up to 40 years. Only those at the very top of their game make it through the grand final. Their prize: creating a drink worthy of being termed a 'legacy' cocktail that champions the world's...
4 tags
Two Bartenders Walk into a Bar
  With regards to service, I think South African bartenders are some of the best. We truly are a friendly and open bunch who know how to entertain…  Recently I caught up with Dominic Walsh, 23, South African National winner of this years' Angostura aromatic bitters Global Cocktail Challenge who competed earlier this year in Trinidad against ten other bartenders, Sean Frederick,...
5 tags
4 tags
Bartending: A Personal Journey
Above: #Happybartenders Words By: Nick Koumbarakis Recently whilst visiting a prominent coffee emporium buried in the marrow of town, I was approached with a rather interesting question. Series would be the preferred form from which one particular guest that was seated alongside my colleagues and I, proceeded to question the craft of bartending as a full-time profession. Bartending has given...
6 tags
4 tags
The Archives:
Above: William Faulkner "Civilization begins with distillation," William Faulkner once said, and like many of the great writers of the 20th century — Ernest Hemingway, F. Scott Fitzgerald, James Joyce — the bard of Oxford, Mississippi certainly had a fondness for alcohol. Unlike many of the others, though, Faulkner liked to drink while he was writing. In 1937 his French translator, Maurice...
4 tags
"Every once in a while I find it to be good for me to look at the very basic principles behind our craft, and I am always reminded that being a bartender means committing to a life of being of service to others. It is a very honorable craft." ~ Gaz Regan"
6 tags
The Tourist
Words By: Nick Koumbarakis Althouth overdue, let me begin with complimenting you all on a blessed 2013 that lies ahead. I am not one to self advertise on a platform that I implemented in 2011. The objective behind the alchemist says…, is to educate consumers & inspire a generation of bartenders wanting to evolve the craft of bartending within South Africa. "Every once in a while I...
4 tags
What is a World Class Bartender?
Words by: Gaz Regan "A world class bartender is somebody that understands what bartending is all about, is somebody that understands that they have the opportunity to shape the cocktail culture, to shape their community, that they have been given the platform and opportunity to shape people's lives by making people happier." 
7 tags
The Daily Bitters:
The Bacardi Bat Device…one of the most iconic brand trademarks within the spirits industry. A symbol of health, good fortune and family unity according to Spanish and native Taino Indian lore which has a symbolic connection. Bacardi rum bottles are easily recognised by their elegant shape and classic colour, called Georgia Green. The distinctive green hue dates back more than 100 years...
5 tags
3 tags
"To have the correct flavor a Cocktail should be freshly made, and should contain..."
4 tags
The Daily Bitters:
How fast does molasses move in January? According to reports from Boston, on this day in 1919, it moves at about 35 mph / 56 kph. A 2 million gallon tank of crude molasses destined to be distilled into alcohol burst open, enveloping part of the city in a sticky tsunami that left at least 21 people dead and 150 injured. The next day, church bells rang out across Boston. However, they were not...
5 tags
Exile Him to the Police Force
Words by: Gaz Regan "… the average bartender, despite the slanders of professional moralists, is a man of self respect and self possession; a man who excels at a difficult art and is well aware of it; a man who shrinks from ruffianism as he does from uncleanliness; in short, a gentleman … the bartender is one of the most dignified, law abiding, and ascetic of men.  He is girt about...
3 tags
5 tags
Let It Sloe! Let It Sloe! Let It Sloe!
Above: Life is just too short to drink inferior alcohol. Words by: Nick Koumbarakis (Insert background music here)…Oh the weather outside is frightful but that fire is so delightful…said no one ever, though I am not one to slander Frank Sinatra.  …Essentially, what is non existent in todays paradigm is the same attitude and keen exploration being applied to that of...
4 tags
~ The Gentleman's Guide to Successful Amputation ~
                   The Gentlemans Guide to Amputation…an infographic  Success…Time for Brandy …the alchemist says
5 tags
The Daily Bitters:
"Jerry Thomas Dead - New York's Famous Old Barkeeper a Victim of Apoplexy" The godfather of modern bartending, the author of the first known cocktail book, and by far the most famous bartender of his era, Jerry Thomas died on this day in 1882. A man of many interests - minstrel show promoter, gourd collector, artist and art collector - Jeremiah P. Thomas toured not only America but parts of...
4 tags
6 tags
2013 Predictions: Key Cocktail Trends
Above: Man / Machine ? If the Mayan prophecy is said to be true, could this be the future of bartending? #21/12/2012 Words by: Camper English In recent years, a disturbing percentage of high-end cocktail bars have forgotten that drinking is supposed to be fun. Luckily, the anti-blah backlash is under way. In 2013, we will see brighter and less-filling cocktails served up more quickly, in...
8 tags
No School Like Old School
                                            The name Mamie Taylor…once common and famous, rings quant in an era of Brittanys, Heathers, and Lindsays. The Mamie is a highball, a drink in a tall glass (highball) served with ice, spirit and sparkling mixer. It is mainly remembered from The Bartenders Book by Jack Townsend (1952), highlighting the growing / declining popularity of drinks that were...
4 tags
The Sort of Precision that Gave One Confidence:
By Gaz Regan Casper placed a napkin on top of a silver shaker and rattled it good.  Then he carefully began to pour.  First, he filled my glass to the brim.  The liquor was so cold and pure it gave the impression of being more translucent than water.  Next he filled Eve's glass.  When he began filling Tinker's, the flow of alcohol from the shaker slowed. And then trickled.  For a moment it...
5 tags
The Global Bartender Exchange Programme
Previously on the alchemist says… we interview Belvedere Global Brand Ambassador Ali Dedianko in our local segment of Two Bartenders Walk into a Bar, the Worlds Best Smallest Mojito…in the world, Shrubs ?, Repeal Day and National Bartenders Appreciation Day which was celebrated on the 8 /12 /12, coincidentally the same day in which the alchemist says… was created in...
6 tags
National Bartenders Appreciation Day:
Here is to those who dedicate their evenings so that we may enjoy ours. Who listen to our stories and make our drinks without hesitation. We honour their hard work, vast knowledge and their unwavering patience.  …the alchemist says
6 tags
The Daily Bitters:
Extra Extra Read All About It…Prohibition Ends At Last Today marks the 79th Anniversary (1933) of the ratification of the 21st Amendment (Repeal)  The turn of the twentieth century was a dark period in American history. The Women's Christian Temperance Union, which had been promoting Prohibition for many years, believed alcohol was the cause of many, if not all, social afflictions....
5 tags
6 tags
The Daily Bitters:
"The current friction between those who prefer 'bartender' and those who prefer 'mixologist' is nothing new, as this brief excerpt from the testimony in an 1898 New York City criminal case (as reported in the New York Post) proves: "Harry N. Field was next called. 'What is your business?' Assistant District Attorney McIntyre asked. 'A...
5 tags
5 tags
Worlds 50 Best Bars by Drinks International →
Want a copy of the World's 50 Best Bars by Drinks International…#clickonlink …the alchemist says
7 tags
Shrub it Off
Above: I am turning a blind eye to smuggling. Care for a shrub? Words by Nick Koumbarakis The first mention of the word 'shrub' in the English Dictionary was in 1747, which defined it as "any various acidulated beverage made from the juice of fruit, sugar, and other ingredients, often alcohol".  Shrubs…I would hazard to speculate that you the reader are...
5 tags
"God made yeast, as well as dough, and loves fermentation just as dearly as he..."
4 tags
6 tags
Two Bartenders Walk Into A Bar And
Ali Dedianko, a Baltimore native who has been in New York City for more than seven years. She attended New York University where she majored in European Studies with a minor in Russian Language. Before winning the Belvedere Dream Job she was working at Back Room in Manhattan's Lower East Side and Madam Geneva, a gin orientated lounge on The Bowery. We recently caught up with Ali Dedianko,...
5 tags
"I am a drinker with writing problems ~ Brendan Behan"
4 tags
7 tags
The Tahona Society
Previously on the alchemist says… we break the ice on the fastest moving ingredient, Micah Melton and Charles Joly discuss the ice program at The Aviary and #MurrayAid? We caught up with UK Olmeca Altos Brand Ambassador Matthias Lataille to discuss The Tahona Society and the emergence of Olmeca Altos. What is the Tahona Society? Within your personal experiences has the programme benefited...
6 tags
Murray Stenson
Words by Paul Clarke It is not an exaggeration to say that if it were not for Murray Stenson, my career, and my life, would be disappointingly different. A longtime Seattle bartender — most recently at Canon, and for much of the decade before that, at The Zig Zag Cafe — Murray first got in touch with me in the summer of 2005, when this blog was only a couple of months old and my readership...
7 tags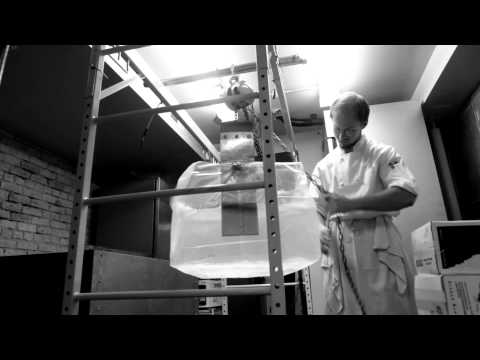 5 tags
Breaking the Ice
Words by: Nick Koumbarakis Ice…the fastest moving ingredient in any venue / establishment. One can never have too much. In saying that, it is the most overlooked and ubiquitous of ingredients to prepare and serve a great tasting drink. #fact Frederic Tudor is widely regarded for being the man responsible to pioneer the distribution of harvested ice from lakes in New England. His development...
"Vodka: First is drunk for health, Second for pleasure, Third for tears, Fourth..."
5 tags
It is All About Giving Someone What They Want
"[At the Brooklyn bar] we were taught to build cocktails with our heart in place, to close our eyes and visualize ourselves as being content. And when we make a drink we remember that it's a privilege to do what we do and that not everybody gets a chance to do that in our life. Anybody can mix a drink; a robot can mix a drink. But to actually have feelings when you produce that and put it into a...
6 tags
Golden Age Bartending: →
Goldenage Bartending offers a full spectrum of professional and affordable barware fit for the most discerning bartender. With knowledge as a bartender's most valuable resource, Goldenage Bartending provides an online library of bartending material spanning from pre and post-Prohibition era publishing.  Visit the store: Goldenagebartending.com …alchemist says
"There comes a time in every woman's life when the only thing that helps is..."
6 tags
Two Bartenders walk into a bar and
Previously on the alchemist says… we showcase Drinks International: The Worlds 50 Best Bars, What if bars sold subscriptions?, the much debated topic on the Dangers of Liquid Nitrogen, the world's most expensive cocktail and Skinny Legs and all? Recently we caught up with Assaf Yechiel from Orphanage, Cape Town, South Africa, who participated at this year's Olmeca Tahona SocietyGlobal Final...
4 tags
Bar Magazine →
Bar Magazine is a professional bi-monthly online publication for iPads, providing readers with high-quality content regarding drinks, bars and people who love them. Bar Magazine offers well balanced content, hot topics, up-to-date commentaries, cool cocktail recipes, ground-breaking techniques, pro tips from the Masters of Bartending, informed overviews of international bar scenes and news from...
6 tags
The Daily Bitters:
Above: On the 11th of October 2012, Salvatore Calabrese made bartending history by creating the most expensive cocktail "The Salvatore Legacy" 730 years of combined liquid history. I commerate this drink to every bartender and every fan across the globe, I hope I made you proud ~ Salvatore Calabrese Bar owner Salvatore Calabrese holds the world's most expensive cocktail,...
"Now don't say you can't swear off drinking; it's easy,..."
5 tags
Liquid Nitrogen Warning →
Words by: Ian Cameron Bars using liquid nitrogen to create novelty cocktails have been warned about its dangers after a drinker in Lancaster had to have her stomach removed in a life-saving operation after ingesting the potentially deadly ingredient…(continue reading)
5 tags
The Winner Takes It all
The World's 50 Best Bars 2012… This year, speakeasies and luxury hotel bars were joined by saloons, clubs and classic drinking dens from across the globe. Here is the full World's 50 Best Bars 2012 list. Last year we introduced the Academy, a group of people we believe to be among the most influential and knowledgeable bar industry professionals on the planet. Academy members include...
6 tags
The Harry Johnson Cup - A Tribute To The Very...
Above: Harry Johnson at 43 years Old Very soon, a group of talented bartenders from around the world will come to Paris, where they will try to win the very first "Harry Johnson's Cup" Fernando Castellon's tribute to the very first cocktail competition. In Paris, April 2013…(continue reading) More to follow on Harry Johnson… …alchemist says